The leavening acid, sodium acid pyrophosphate (SAPP) is an important component of double acting baking powder as well as self rising flour. SAPP reacts in stages and is desirable in baking applications for its slow action.
Origin
In the eighteenth century and earlier, bakers relied upon yeast to leaven all baked goods. However, using yeast for leavening baked goods was tedious and bakers began to explore the use of chemical leavening systems. In 1846, baking soda was discovered as a leavening agent and that led to further discoveries of acids to react with baking soda, such as SAPP.3
Commercially, sodium acid pyrophosphate was introduced into baking powder blends towards the end of the nineteenth century.3 SAPP is a preferred leavening acid because it is less expensive and stronger than other leavening acids introduced previously.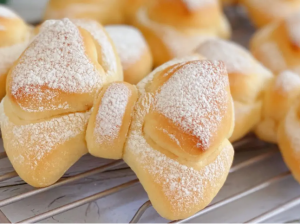 Function
Leavening acids provide air and volume to the baked good structure, but also affect the characteristics of the dough. Besides reacting with baking soda to produce the gas carbon dioxide, these acids form ionic bonds with the starches and proteins in the dough.
SAPP dissolves readily to form the anion pyrophosphate which interacts with the proteins in a baked good system to provide a moist texture. Also, it provides a buffer system for the dough in the pH range 7.3-7.5, which influences the color of the baked product.4
Nutrition
21 grams of sodium and 28 grams of phosphorus are present in 100 grams of SAPP.1
Commercial Production
SAPP is manufactured by partially neutralizing food grade phosphoric acid with sodium hydroxide or sodium carbonate to form monosodium phosphate. Dehydration of monosodium phosphate at 250°C will form SAPP.1